Corporate Services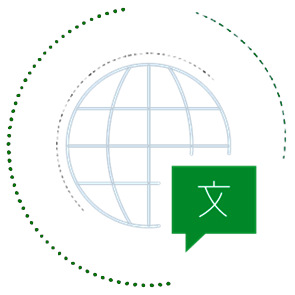 Translations
Work with local industry translators and in-house language proofreaders to get consistent and accurate messages across all types of contents.
Specialized translations
Rely on experts on financial matters who have knowledge beyond language, such as the compliance framework and technical terminology.
Transcriation
Create high-quality, tailored brand communications with a recognizable global voice to develop exciting connections and to experience the deliverance of your own message to specific audiences, in every language.
Post-editing
Combine automated machine translation (MT) technology with the experience of the human translator, aiming at faster translations of larger content volumes and stretch your budget even further.
Transcription
Accurate records of every word spoken with 100% accuracy, including grammatical correction, style and comprehension that delivers the most readable results. RWS transcribers work with audio or video files or even live speech, providing both spoken language transcriptions and translations, in any other language you may need.
Interpretation
Enable understanding among individuals and audiences who speak different languages so they can communicate effectively. RWS's trained interpreters listen in one language and communicate content in another - in a way that ensures that ideas, advances, policies and innovations don't get lost with the translation, itself.
Applied Technology

RWS neural machine translation
Apply the latest in neural machine translation to translate automatically, easily, cost-effectively and securely translate content into content-intensive business functions, including customer experience, business intelligence, and internal communication. Reach an easier global audience and new markets faster with the latest advances in artificial intelligence.
RWS Translation Management System
Translate with the unique complete and intelligent translation management solution and create content safely and quickly without compromising on quality. Simplify and automate your entire localization process by easily connecting to RWS linguistic AI, RWS neural machine translation, and the industry-leading computer-assisted translation tool, RWS Trados Studio. No matter the size of your business, RWS Translation Management offers best practices and greater control with the industry's most implemented enterprise translation management system, solving your most challenging localization problems.